Ald. Leslie Hairston (5th) focused her first virtual ward meeting of the coronavirus era on individual government agencies' responses to the crisis.
"To assist my residents in these difficult times, I've been organizing volunteers to make calls to check in on residents. We've helped them find food, services and connected them with helpful programs," Hairston said at the April 28 meeting. "We will continue to reach out, produce our newsletter, and continue weekly conversations with our buildings, landlords, associations, block clubs to find those in need," she said.
"This virus is dangerous and deadly. It has been devastating our community, our city, our country and the world. Everyone must do their part to follow the instructions by the Centers for Disease Control and Prevention," she said, encouraging social distancing, face-coverings and hand hygiene.
Hairston acknowledged the continuing need for sanitary products and personal protective equipment (PPE) — her office is arranging donations at 773-324-555, ext. 103  — while promising to work for more testing, including the new University of Illinois Health Mile Square Health Center site in South Shore, 7037 S. Stony Island Ave. (appointment scheduling at 866-600-2273).
She accepted 20,000 masks from businessman and perennial candidate Willie Wilson for distribution on Friday, May 1, at 11 a.m. at the parking lot at 7351 S. Stony Island Ave. and at 2 p.m. at 60th Street and Stony Island parking lot.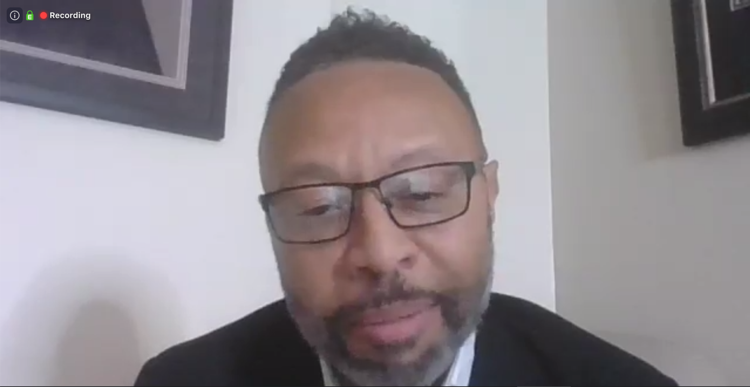 County Commissioner Bill Lowry (D-3rd) said minority- or women-owned business enterprise licensing certifications have been extended for six months and that home-rule county tax collection has been suspended.
He confirmed that the emergency department at the county's Provident Hospital, 500 E. 51st St., re-opened on April 20 after a provider tested positive for the coronavirus. All services besides voluntary or elective surgeries and the intensive care unit are open. County physicians can authorize walk- or drive-through testing at Provident; the Cook County Department of Public Health hotline is 708-633-3319.
"There was a massive cleaning and reconfiguration that occurred," he said. "Now when you go into provident, you have to register, and you have space between you and other individuals. The nurses stations have been reconfigured in allowance for social distancing there."
Lowry also addressed the situation at the Cook County Jail, 2700 S. California Ave., which has become a deadly hotspot of coronavirus infection. Nonviolent inmates have been released to go home if asymptomatic or negative, into quarantine if asymptomatic and positive or to a hospital if symptomatic and treatment is required.
He said the county is also providing alternative housing for the families of released detainees who have been exposed. Within the jail, the priority is getting remaining inmates tested; individuals living in shared cells and no longer sharing spaces.
Metropolitan Water Reclamation District Commissioner Kim DuBuclet said the body has seen a number of masks and rubber gloves in its system. That should not be happening, and she asked attendees to dispose of them properly, not recycled, left out on the street or flushed down the toilet.

Metropolitan Water Reclamation District Commissioner Kim DuBuclet.png
Metropolitan Water Reclamation District Commissioner Kim DuBuclet at Ald. Leslie Hairston's 5th Ward meeting, April 28
Screenshot
Tristé Smith, Director of State Government Relations at the University of Chicago, reported that drive-through and walk-in testing is available for symptomatic people at the University of Chicago Medical Center by appointment, with scheduling at 773-702-2800 and results in 24 hours. Patients will not be asked to pay for testing; those with insurance will not have co-pays. She also noted the expansion of testing with partners institutions at locations on the South Side and in south suburbs.
"While we have the capacity to process up to 1,000 tests a day … about 10% of the governor's goal of 10,000 a day, we are still unfortunately unable to meet all the testing needs of the community," Smith said. "Like other institutions around the country, we are working very hard alongside the city and state to procure additional testing supplies, to work with partners and to collaborate to make testing more readily available."
Pandemic aside, two developers for sites that would require zoning changes in Hyde Park presented at the meeting, for a gourmet cookie bakery at 1709 E. 55th St. and a U. of C. high-bay building at 56th Street between Maryland and Cottage Grove avenues.
Hairston's next ward meeting will also be held virtually, on Tuesday, May 26.
This story was originally published in the Hyde Park Herald written by Aaron Gettinger reporter for Hyde Park Herald